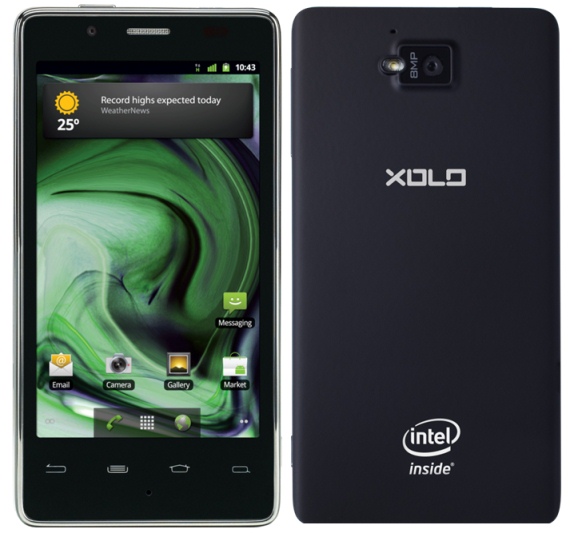 Well its about time Intel got their feet wet in the mobile space. After their first phone being delayed almost a year its finally here. Partnering with an Indian company named XOLO, they released their first phone in to the market; the XOLO X900. Running on an Intel Atom processor clocked at 1.6GHz, pretty generic right? Well what's different about this phone is completely unheard of in the Android ecosystem. Instead of running on ARM which is the standard for all Android devices. This phone runs on a x86 architecture which is basically the 32 bit architecture that some computers use. So this time when they say "pocket computer" it actually is. Jump on past the break to see if this is just Intel's science project or something more.
Specs
No phone overview isn't complete without a rundown of the specs so lets jump in. Cramped in to this phone is a 8MP camera capable of taking 1080p video with a 1.3MP front facing camera, pretty decent right? But the display they use is much much better than what you would get for a similarly priced android device. A 4" 1024 by 600 occupies this device translating to 295 ppi which is really high compared to other Android devices which are most of the time near the 200 mark. This phone is also capable of taking 10 photos in burst mode which is only found on some ICS devices. The phone also sports a NFC chip with 1GB of RAM and 16GB internal storage space. Now a high end phone like this should have ICS right? Unfortunately the answer is no. But in the meantime this device is upgradable to Android 4.0 in the future.
Real Life Performance and App Support
Of course the 1.6GHz processor will blow through daily tasks but what we all want to really see are the benchmarks. In browsing performance Intel's CPU beats the One X and even the Samsung Galaxy SIII. But in graphical performance it lacks compared to Exynos and Tegra. But it is still better than most mid level devices. In Quadrant the phone gets scores around the 4000 mark compared to the One X's (S4 variant) and SIII's 5000+ scores. You may think battery life is horrible on this device but Intel's solution is to scale the processor down to use less power when the device isn't being used. Also Intel has put their hyper-threading solution here meaning you are paying for a single core CPU, but Android sees it as two. With all these benchmarks aside, you can't really just force a new architecture in to an area where ARM is king. Though in our tests 94/100 apps worked. So that's a plus. Battery life lasted us around 2 days of usage so it's on par with the competition.
Final Thought's and Price
Intel has really brought a lot to the table with this device and that's a good thing, but they need one of the major competitors to utilize this chip such as Samsung to get them mainstream. Now for a phone like this you may be expecting to pay a premium right? Well you can get this phone re-branded as the Orange San Diego for only $309 off contract, nice deal right? The downside its only sold in the UK and may take a while to get to the US. But in the end if Intel can keep prices like this they may prove to be a worthy opponent to ARM's monopoly.